A homeowner needs a repair. They call their favorite home repair contractor and get an estimate. The contractor tells them that he has this great promotion and can offer 24 months Same-As-Cash. Sounds great! But, he isn't a bank. So how is he doing this?
Let's learn about dealer fees, how they affect homeowners & contractors, and what the alternative is.
What is a Dealer Fee?
Lenders partner with contractors to provide homeowners ways to pay for their projects. Not many people have a spare $20,000 to get necessary work done on their home. And, in fact, 65% of all home improvement projects in 2021 were financed. For contractors, having the ability to offer financing means more jobs. For homeowners, it means a way to get the job done.
Many lenders who offer home improvement loans do it in a pretty mysterious way. When a homeowner applies for a loan with one of these lenders, they can be offered special promotional offers (same-as-cash, deferred payments, extremely low APRs). But, as is with anything in life, nothing is free. So who pays for it?
This is where the dealer fee comes in play.
The dealer fee is a percentage of the loan that the contractor pays in order to offer the loan to homeowners. These fees can range from 3% to as high as 45%. So, on a $10,000 project, it could cost the contractor anywhere from $300-4500 just to offer that specific loan offer. In layman's terms: the contractor "buys down the rate".
Common Benefits of Dealer Fee Loans
Ability to offer below market interest rates: By "buying down" the rate, contractors have the ability to offer below market interest rates and terms. While it cost them money, they appear to be more competitive and have a perceived cost-saving solution.
Get paid directly from the bank: With dealer fee loans, the bank or lender will pay the contractor directly. This allows contractors to collect payment without asking their customers.
Easy to offer because of pre-set terms: Most contractors choose 1-3 different loan packages to offer customers. Because they are uniform, sales people only need to know a very small amount of information about the loans because the choices are limited.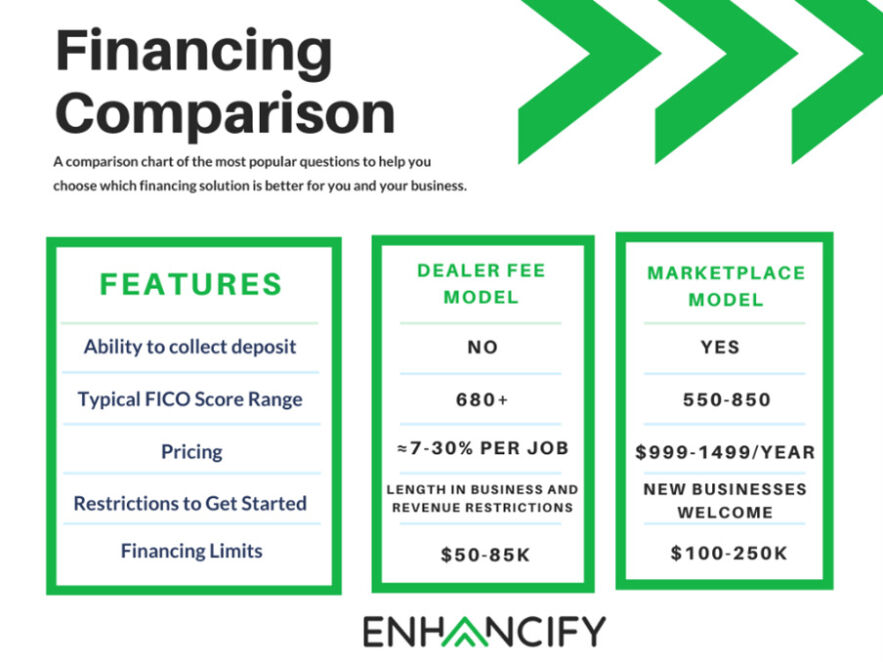 Five Common Drawbacks of the Dealer Fee Model
High cost to contractors and homeowners: As explained above, the cost of these loans are not inexpensive. Someone has to pay this fee. In some states, the contractors are required to absorb this cost. In other states, contractors are encouraged to build this fee into the cost of the job as "overhead." The contractor market is very competitive and profit margins are usually small. These fees cut into already slim profits.
Homeowners are unaware of fees: Homeowners are typically unaware of the fees associated with these sorts of loans. Contractors build the cost into the price of the job. In turn, contractors are charging more for the job, but homeowners think they are saving money with below market interest rates. However, homeowners don't know that they are paying for these fees on the front end after all.
Contractors usually can't take a deposit: In order to work with lenders that offer dealer fee loans, they cannot usually receive any payment until after the job is completed (and sometimes weeks after the job is completed). In some cases, contractors can receive a small draw during the job process. Unfortunately, this creates cash-flow issues for most contractors who cannot afford to front the costs of ordering materials and paying for the entire job out of pocket. This causes contractors to take on financial risk.
Hidden Costs to Homeowners: Homeowners are not only unaware of the hidden dealer fees, they are also sometimes unaware of the penalties involved with late payments or missed payments. For instance: with offers like "12 months same-as-cash," the loan can balloon to 16.99-25.99% accrued interest if the loan is not paid off during the promotional period.
Low Approval Rates and Non-Competitive Rates: Two of the most popular home improvement loan providers average FICO Score at time of origination is approximately 770. This is indicative of how many of these loan providers have low approval rates, and do not approve loans for people unless they have exceptional credit already. Likely, these homeowners could qualify for more competitive rates and terms with lenders in the fair and free open market.
Want to ditch dealer fees? Contact Enhancify at 813-499-9879 or click here to learn more.
Are there alternatives to dealer fees?
It's important to note that many contractors are happy to offer the dealer fee model. Sometimes it's the right choice. But, sometimes it's not. So, what are the alternatives:
Marketplace Lending: Most people don't shop for flights directly on an airline website. Why would they want to shop for a loan at one bank when they can shop at all the banks? Financing partners like Enhancify.com provide contractors an easy-to-use point of sale financing portal where customers can shop their loans with up to 30+ lenders - with a soft pull on the credit! Instead of a large fee for every transaction, contractors buy a once-annual license to offer unlimited loan offers to an unlimited number of customers.
Combination of Dealer Model and Marketplace Lending: Many contractors use a combination of the dealer fee model and the marketplace model. Most will offer the marketplace model as the "first look" and fall back on the dealer fee if necessary for a particular customer. This gives the contractor a look at every option available for them in the market, and gives their homeowners a wide-array of options.
Do not offer financing: Still, some contractors do not offer financing. Unfortunately, because 65% of home improvement projects in 2021 were financed, they are missing out on a lot of jobs.

Still not sure what you should offer to your customers? Chat with the team at Enhancify and get an honest assessment of what will grow your business. There's no obligation, no hard sale. Just industry expertise to help you make the right decision.
Contact Enhancify at 813-499-9879 or click here to learn more.