By: Ben Barrick, Direct of Business Development at Enhancify.com
...And pigs can fly. And taxes are optional.
In all seriousness, though, "None of my customers need financing" is a common reaction when I speak to business owners or sales directors. However, customers not only demand financing options, they seek out the companies that offer it. Let's get down to the facts:
Sales people that offer financing to every customer have a close rate that is 20-30% higher than those that don't offer financing.
Customers that finance spend 18-24% more than those that pay out of pocket.
Approximately 65% of all home improvement projects over $5000 are financed every year.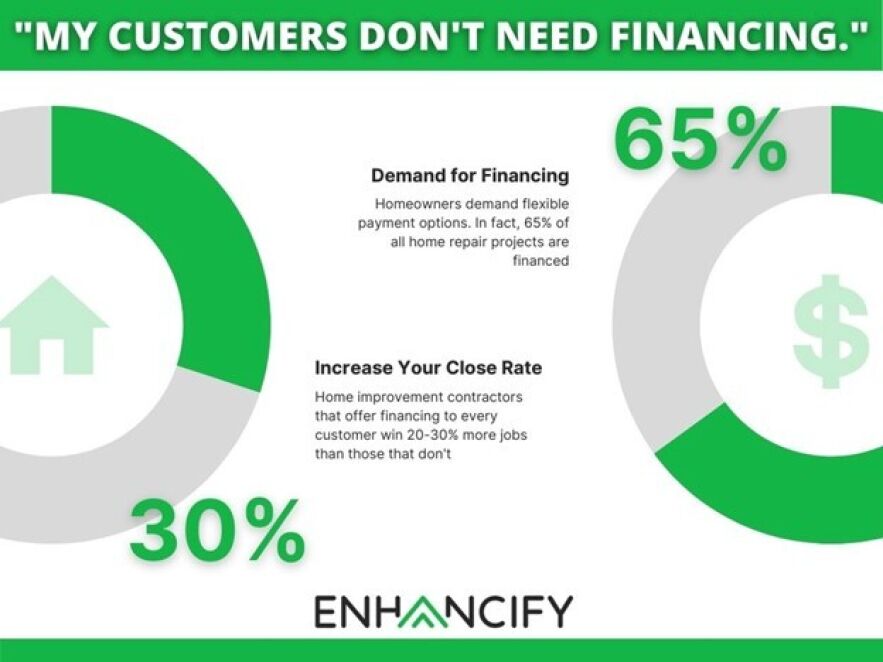 These numbers tell us customers want payment options. And companies that offer it are spending less time selling, and more time getting contracts signed. So, let's dive in a little deeper, and I'll tell you how I've seen it first-hand with this story about a former colleague, Alex.
*Nervous about the market? Click here to read an article from CNBC about how consumers are holding onto their savings and putting off home improvements-and how offering financing can keep your business growing during economic uncertainty.
Case Study: Alexander the Great, "What happens when you begin offering financing?"
I once worked on a team with 22 sales people. At the beginning of the month, we would have a sales meeting and look over all the numbers from the previous month. The top performers were still at the top of the chart. The guys who are usually towards the bottom were still near the bottom. We had a competitive team, but the rankings each month didn't change very often.
Then, at one monthly sales meeting, we spent 2 hours talking about offering financing. That's quite a long time to hold 22 sales people's attention about a topic that is considered pretty mundane. But, as we dove deeper and deeper into it, a lot of people started seeing the benefits. Then everyone got that look in their eye. If you have a sales team, you know the look. It's what every business owner wants to see in their sales team. The look of hunger and opportunity.
It's interesting because we always had several financing options. But, taking time to really understand it seemed to spark something in the sales team.
Now fast forward a month.
We have a sales meeting and look over the numbers from the previous month. The top performers were still at the top of the chart. The guys who are usually towards the bottom were still near the bottom. But, whoa!
Alex went from a bottom tier sales person, to the second highest performer last month! He must have closed a really big job. Or had some stroke of luck. Or ran a lot of estimates.
None of those were true.
21 other sales people started chattering and were all stunned by what Alex had done. Asking him how the [insert your favorite 4 letter word] Alex had pulled this off?
"I just started opening my sales pitch by telling them I had financing available, and almost everyone was interested...it's actually a really easy sale when you tell them that," Alex said very non-chalantly.
Alex was a 21-year-old full-time college student in a room full of seasoned sales professionals, some of whom had 20+ years of experience. But it was only Alex who went from selling $50K a month to over $120K. It was only Alex who increased his close rate by almost 40%. It was Alex who took the information he had learned the month prior and applied it.
And in doing so, Alex paid for his semester of college with cash.
If you want to be more like Alex, contact Enhancify at 813-499-9879 or click here to learn more.
But my customers don't ask about financing.
I worked with 1500 sales teams in 2021, and heard this in almost every training session. "Why would I offer financing when no one seems to want it?" It's a good question. But, just like Alex discovered, it's not about the customer asking about it. It's about the sales person providing it.
It's strange to think but a lot of people don't like talking about the cost, or the inability to pay cash with a sales person. Some people think it shows a sign of weakness on their side of the sales. Others are embarrassed that they can't afford to pay for it out of pocket. Regardless, the salesperson needs to lead the sales conversation.
Customers have lots of options, but typically buy from the most convenient one. To be more convenient than your competitors, offer a variety of payment options to every customer on every estimate.

Here's an easy way to start the conversation:
"Hey folks, before I put this estimate together, I just wanted to let you know that 50% of my customers pay with cash or check. The other 50% like to finance with an affordable monthly payment. Help me out here - which bucket do you fall into?"
It can be that simple. With this easy-to-ask question, you tell your customer that: 1) You have convenient payment options; 2) A lot of people use financing and it's not uncommon; and 3) You care about what's important to them.